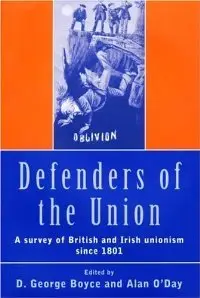 D.George Boyce, "Defenders of the Union: A Survey of British and Irish Unionism Since 1801"
Publisher: Routledge | ISBN 10: 0415174228 | 2010 | PDF | 352 pages | 10.2 MB
Defenders of the Union: A survey of British and Irish unionism since 1801 provides a comprehensive overview of the contentious politics of unionism and the effects it has had on the relationship between Britain and Ireland over the past two centuries. By considering the history of unionism, the Act of Union of 1801, the Anglo-Irish Treaty of 1921 and their aftermath, Defenders of the Union provides an essential guide to these historical events and the continuing legacies which they have created.
This book looks at the way the Union has affected Anglo-Irish and Catholic-Protestant relations and also considers its social, cultural and economic effects on Irish and British life.
Key aspects which are discussed include:
• definition of unionism
• establishment of the Union
• defending the Union
• Protestant Churches and opposition to home rule
• unionist literature
• loyalists since 1972
• unionism, Conservatism and the Anglo-Irish Agreement.