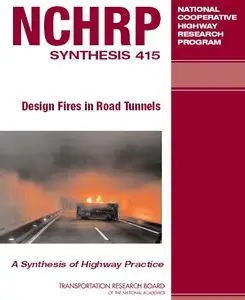 Design Fires in Road Tunnels: A Synthesis of Highway Practice
National Academy of Sciences. TRB's National Cooperative Highway Research Program (NCHRP) 415
TRB, NAS | 2011 | ISBN: 9780309143301 | 199 pages | PDF | 5 MB
The objectives of the study is to synthesize the available information related to design fires in road tunnels and to identify gaps in that information in order to provide a foundation for design guidance. A design fire is characterized by a number of parameters including the temperature, fire heat release rate (FHRR), fire growth rate, fuel load, and products of combustion.
CONTENTS
SUMMARY
CHAPTER ONE INTRODUCTION
Background
Project Overview
Description of the Survey Process
CHAPTER TWO TUNNEL SAFETY PROJECTS—LITERATURE REVIEW
Overview of Recently Completed and On-going Tunnel Safety Projects
Prevention of Tunnel Highway Fires
Making Transportation Tunnels Safe and Secure
International Technology Scanning Program–Summary
UPTUN—Summary
FIT
DARTS
SafeT
SIRTAKI
Virtual Fires
Safe Tunne
EuroTAP
SOLIT
L-surF
EGSISTES
Summary
CHAPTER THREE TENABLE ENVIRONMENT—LITERATURE REVIEW
Heat Effects
Air Carbon Monoxide Content
Toxicity
Smoke Obscuration Levels, Visibility,
Air Velocities
Noise Levels
Geometric Considerations
Time Considerations
Summary
CHAPTER FOUR SIGNIFICANT FIRE INCIDENTS IN ROAD TUNNELS—LITERATURE REVIEW
Cause of Vehicular Fires in Road Tunnels
Frequencies of Tunnel Fires
Consequences of Tunnel Fires
Summary
CHAPTER FIVE COMBINED-USE ROAD TUNNELS—LITERATURE REVIEW
Combined Use for Road Vehicles and Pedestrians
Combined Use for Road Vehicles and Utilities
Combined Use for Road and Railway Vehicles
CHAPTER SIX FIRE TESTS—LITERATURE REVIEW
Full Scale Tests
Small-Scale Testing (Physical Modeling)
Large-Scale Experimental Facilities
Gaps in Fire Testing, Modeling Limitations, and Computational Fluid Dynamics Verifications
Summary
CHAPTER SEVEN ANALYTICAL FIRE MODELING—LITERATURE REVIEW
Analytical (Numerical) Fire Modeling Technique
Findings on Numerical Modeling Based on Literature Review
Summary
CHAPTER EIGHT SURVEY RESULTS
Fire Frequency in U.S. Tunnels
Consequences of Fire Incidents
Severity of Tunnel Fires
Existing Practice of Fire Management in Road Tunnels
Best Design Practice
Maintenance, Repair, and Rehabilitation of the Fire Management Systems
Selected Important Examples
Findings and Future Studies
Computer-Based Training Tools for Operators to Manage Fire—Virtual Training
CHAPTER NINE DESIGN FOR TUNNEL FIRES—LITERATURE REVIEW
Background
Integrated Approach to Safety in Tunnels
Design Fire Size
Exploring the Emerging Issues of Alternative Fuel Vehicles on Design Fires
Fire Smoke and Smoke Production—Literature Review
Temperature of Fire Gases and Tunnel Walls
Fire Development Based on Literature Review
Summary
CHAPTER TEN COMPILATION OF DESIGN GUIDANCE, STANDARDS, AND REGULATIONS
Tunnel Ventilation and International Standards Requirements
Tunnel Fire Protection, Fire Fighting, and International Standards Requirements
Tunnel Fire Detection, Notification, and International Standards Requirements
Tunnel Egress and International Standards Requirements
Tunnel Incident Response and International Standards Requirements
Summary
CHAPTER ELEVEN DESIGN FIRE SCENARIO FOR FIRE MODELING
Time–Temperature and Time-of-Tenability Curves
Emergency Egress Timeline
Equipment Activation Timeline
Combined Curve for Evacuation and System Activation
Summary
CHAPTER TWELVE FIXED FIRE SUPPRESSION AND ITS IMPACT ON DESIGN FIRE SIZE
Background
Summary
CHAPTER THIRTEEN EFFECTS OF VARIOUS VENTILATION CONDITIONS, TUNNEL GEOMETRY, AND STRUCTURAL AND NONSTRUCTURAL TUNNEL COMPONENTS ON DESIGN FIRE CHARACTERISTICS—LITERATURE REVIEW
Influence of Ventilation on Fire Heat Release Rate
Influence of Tunnel Geometry on Fire Heat Release Rate
Influence of Structural and Nonstructural Components on Fire Heat Release Rate
Summary
Example of Design Fire Size Estimate
CHAPTER FOURTEEN CONCLUSIONS
REFERENCES
BIBLIOGRAPHY
GLOSSARY
APPENDIX A SURVEY QUESTIONNAIRE
APPENDIX B LIST OF RESPONDING AGENCIES
APPENDIX C SUMMARY OF SURVEY QUESTIONNAIRE RESPONSES
APPENDIX D TUNNEL SAFETY PROJECTS ADDITIONAL DESCRIPTION
APPENDIX E FIRE TESTS
APPENDIX F COMPARISON OF NATIONAL AND INTERNATIONAL STANDARDS REQUIREMENTS
APPENDIX G PAST TUNNEL FIRES DESCRIPTION
with TOC BookMarkLinks