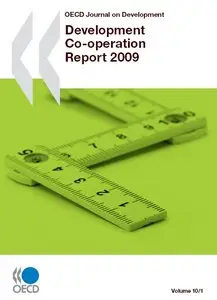 Development Co-operation Report 2009
OECD | 2009 | ISBN: 9264055045 9789264055049 9789264055056 9789264040533 | 259 pages | PDF | 4 Mb
This edition Report provides key statistics and analysis on the latest trends in international aid. The report also addresses fragmentation, a major problem when aid comes in too many small slices from too many directions and - drawing on case studies from number of countries - offers five lessons on how the Paris Declaration on Aid Effectiveness can be used to make the link between development policy and human rights, environmental sustainability and gender equality.
Table of Contents
Foreword by the Secretary-General
Credits
Preface
Executive Summary
1. Globalisation: A Shifting Context for Development Policy
Keeping control: A collective endeavour
Working together
Policy coherence for development: Putting development on the same page
Time for action
Accra: A milestone, or where the hard work begins?
A new relationship between donors and recipients
Putting Accra into action
Fragmentation: Why we need solid foundations for the aid architecture
Search for solutions
Development starts at home: Can partner countries grow out of aid?
Aid is growing – but too slowly – and overall targets are slipping out of reach.
Uneven growth
A taxing question
Making it happen: How to improve our aim – and reach our development goals
Notes
2. How Fragmented Is Aid?
Introduction
What's in this chapter?
Country programmable aid (CPA) – A new measure of fragmentation
How concentrated and fragmented is aid?
Towards a better division of labour
In-country division of labour
Cross-country division of labour
Sectoral division of labour
Fragile states
Matrix of donors working in partner countries
Notes on interpreting the matrix
Notes
3. How Predictable Is Aid?
Introduction
What's in this chapter?
The DAC Survey of Indicative Forward Spending Plans
What does the Survey cover?
Meeting the targets for ODA in 2010: How much scaling up is there?
Aggregate performance of all donors
Aid to Africa
Where will aid be scaled up?
Scaling up by income group
Scaling up by region
Scaling up by country
Planned decreases in CPA with a focus on countries of special concern
Donor countries' allocation and budgetary procedures
Summary of donor development assistance practices
Overall budget framework for development co-operation
Planning at the operational level: Donor countries
Planning at the operational level: Multilateral agencies
Concluding remarks
Notes
4. What the Reports Are Saying
Introduction
Rethinking development aid
Shifting the balance of power
What is the Paris Declaration?
Reviewing progress
What the reports say on the five principles
Ownership
Alignment
Harmonisation
Managing for development results
Mutual accountability
Going forward
Notes
5. The Bigger Picture: The Paris Declaration and Broader Development Goals
Introduction
How the Paris Declaration can advance wider development goals
Lessons learned from using the Paris Declaration to advance rights, inclusion and gender equality
Lesson 1: Actively involving poor women and men strengthens ownership and accountability for development results
Lesson 2: A results-based approach to human rights can improve services for all citizens
Lesson 3: More effective use can be made of joint assistance strategies to advance development priorities
Lesson 4: Words must lead to action
Lesson 5: Donors' harmonised support can help rebuild capacity in fragile situations
Learning from these lessons
Beyond Accra: Taking the lessons forward
Notes
6. Efforts and Policies of Bilateral Donors
Introduction: DAC members' aid performance in 2007
Donor performance
Performance versus commitments
Aid pledge
Notes on DAC members
Australia
Austria
Belgium
Canada
Denmark
European Community
Finland
France
Germany
Greece
Ireland
Italy
Japan
Luxembourg
Netherlands
New Zealand
Norway
Portugal
Spain
Sweden
Switzerland
United Kingdom
United States
Notes on other OECD donors
Czech Republic
Hungary
Iceland
Korea
Mexico
Poland
Slovak Republic
Turkey
Notes on other providers of development assistance
Notes
Statistical Annex
Glossary of Key Terms and Concepts
Technical Notes
Notes on Definitions and Measurement
DAC List of ODA Recipients – As at 1 January 2007
with TOC BookMarkLinks