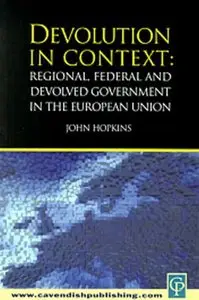 Devolution in Context
Routledge-Cavendish | July 1, 2001 | ISBN-10: 1859416373 | 300 pages | PDF | 3.22 MB
"Devolution in Context" represents the first work of comparative public law to study Western Europe's revolution in regional governance. Working from a cross-disciplinary perspective, this comprehensive analysis attempts to weave history, politics and law into a coherent examination of the various structures of regional government. It examines the theory and practice that underpin Europe's regional revolution and the systems of regional government that developed as a result. Devolution in the UK is placed within its true European context by comparing key aspects of the regional structures, including financial autonomy, the role of the courts and the relationship with the European Union. The text is designed to provide the primary source and reference point for the study of regional and federal systems in the European Union. It provides an accessible resource for researchers and those interested in understanding the structures of European regional government. Suitable for undergraduates and postgraduate students studying federal and regional systems of governance, "Devolution in Context" is a useful reference point for students of European, and British, Constitutional Law and Politics.