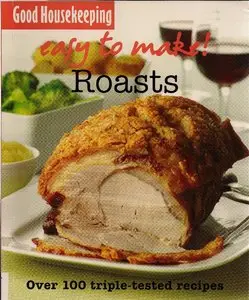 Easy to Make! Roasts
Publisher: Anova Books | 2011 | Serie: Good Housekeeping Easy to Make | English | ISBN-10: 1843406500 | 128 pages | JPG | 82 Mb
Although eating habits have changed dramatically over the years, a traditional roast with all the trimmings still forms the centrepiece of a perfect weekend. This irresistible guide boasts a bounty of recipes from ginger and honey-glazed ham to goose with roasted apples - and the techniques section covering fish, poultry, meat, vegetables and sauces makes it ideal for the roasting rookie. Over 100 triple-tested recipes in a new full-colour cookery series, featuring the most popular recipes from the GH Institute Kitchens - tried, tested, trusted recipes that are guaranteed to work first time every time.