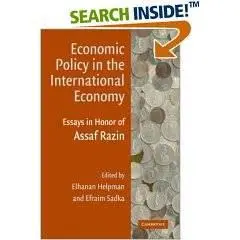 Elhanan Helpman, Efraim Sadka, "Economic Policy in the International Economy: Essays in Honor of Assaf Razin"
Cambridge University Press (April 14, 2003) | ISBN:0521815193 | 484 pages | PDF | 2,7 Mb
Fifteen major essays on international economics investigate five principal themes: theory, and empirics, of financial issues in open economies; economic growth; public economies; and political economy. Written to honor Assaf Razin of Tel Aviv and Cornell Universities on the occasion of his sixtieth birthday, the essays pay close attention to policy issues and formal analysis. The contributors include renowned specialists in international economics based in North America, Europe, Israel, and China.