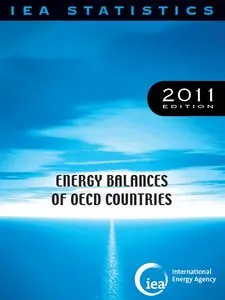 Energy Balances of OECD Countries 2011
IEA Statistics
OECD, IEA | Aug 2011 | ISBN: 9789264103078 9789264103344 | 330 pages | PDF | 6 MB
This volume contains data on the supply and consumption of coal, oil, natural gas, electricity, heat, renewables and waste presented as comprehensive energy balances expressed in million tonnes of oil equivalent. Complete data are available for 2008 and 2009 and supply estimates are available for the most recent year (i.e.2010).
Historical tables summarise production, trade and final consumption data as well as key energy and economic indicators.
The book also includes definitions of products and flows, explanatory notes on the individual country data and conversion factors from original units to energy units.
TABLE OF CONTENTS
INTRODUCTION
OECD ENERGY TRENDS
PART I: METHODOLOGY
1. Explanatory notes
2. Units and conversions
3. Country notes
4. Geographical coverage
PART II: STATISTICAL DATA
COUNTRY-SPECIFIC NET CALORIFIC VALUES
ENERGY BALANCE SHEETS AND ENERGY INDICATORS
OECD Total
OECD Americas
OECD Asia Oceania
OECD Europe
International Energy Agency
Australia
Austria
Belgium
Canada
Chile
Czech Republic
Denmark
Estonia
Finland
France
Germany
Greece
Hungary
Iceland
Ireland
Israel
Italy
Japan
Korea
Luxembourg
Mexico
Netherlands
New Zealand
Norway
Poland
Portugal.
Slovak Republic
Slovenia
Spain
Sweden
Switzerland
Turkey.
United Kingdom
United States
SUMMARY TABLES
Production
Net imports
Primary energy supply
Electricity generation
Final consumption
Industry consumption
Consumption in transport
Other consumption
GDP
Population
Energy production/TPES
TPES/GDP
TPES/population
Index of industry consumption / Industrial production
RENEWABLE ENERGY AND WASTE
Contribution from renewable energies and energy from waste
with TOC BookMarkLinks