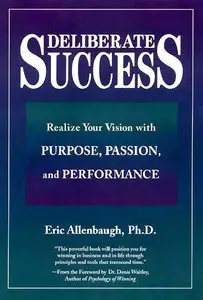 Eric Allenbaugh Denis Waitley - Deliberate Success: Realize Your Vision with Purpose, Passion and Performance
Career Press | 2002 | ISBN: 1564146170 | Pages: 288 | PDF | 1.67 MB
Compelling, practical, and inspirational, this book will provide you with "The 5 Success Strategies" for winning in business and in life, "The 3 Performance Principles" for sustaining long-term results, and hundreds of no-nonsense ideas for immediate application. This book masterfully presents proven success principles and powerful implementation tools that you can immediately apply in bringing out the best of yourself, your team, and your organization. From cover to cover, you will find ways to develop tangible tools that will catapult you to even higher levels of success in business and in life! You will take away from this book: inspirational stories, the sage wisdom of masters in the field who contributed "Deliberate Success Gems," hundreds of pragmatic ideas, and strategies you can use for a lifetime in getting from where you are to where you want to be. This book will both inspire and challenge you to be and do your best.