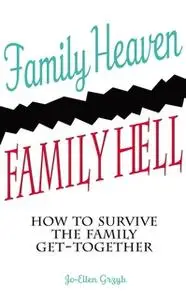 «Family Heaven, Family Hell» by Jo Ellen Grzyb
English | ISBN: 9781783723232 | EPUB | 0.3 MB
Family gatherings are supposed to be happy occasions, full of love and warmth, but the reality is so often more like hell. In "Family Heaven, Family Hell", Jo Ellen Grzyb explores the dynamics of what happens when family members get together - the patterns that get repeated time and time again, the arguments that have been going on since time began (and before), and the expectations, resentments and disappointments that get played out. She gives the reader life-saving practical advice, including techniques on changing patterns, setting boundaries and taking on different 'roles', as well as useful phrases to get out of tight situations. She also explores when the right option is to gracefully bow out. This is an essential book for anyone wanting to improve their family relations.