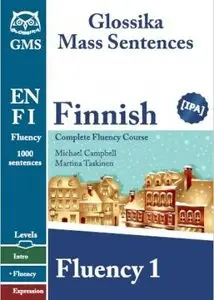 Finnish Fluency 1-3: Glossika Mass Sentences
3 PDF Books | 2014 | Language: English / Finnish | ISBN-10: N/A | 376 + 376 + 376 pages | 250 MB
This GMS Fluency Series accompanies the GMS recordings and is a supplementary course assisting you on your path to fluency. This course fills in the fluency training that is lacking from other courses. Instead of advancing in the language via grammar, GMS builds up sentences and lets students advance via the full range of expression required to function in the target language.
Download other Finnish courses:
Talk Now! Learn Finnish
Talk More! Finnish
Talk The Talk! Finnish
FinnishPod101
Colloquial Finnish: The Complete Course for Beginners
Beginner's Finnish
Finnisch ohne Mühe
Learn Finnish. Vocabulary2001
Finnish Crash Course
Look here other linguistic courses:

My News