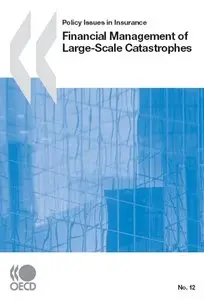 Financial Management of Large-Scale Catastrophes
Policy Issues in Insurance No. 12
OECD | Sep 2008 | ISBN: 9264040781 9789264040786 9789264041516 | 315 pages | PDF | 2 MB
This book contains three reports focusing on different institutional approaches to the financial management of large-scale catastrophes in selected OECD and non-OECD countries, the role of risk mitigation and insurance in reducing the impact of natural disasters, and the importance of strategic leadership in the management of non-conventional crises.
Dramatic events, such as the earthquake that struck China's Sichuan Province in 2008 and the devastation caused by Hurricane Katrina in the United States in 2005, have brought the financial management of catastrophic risks once again to the forefront of the public policy agenda globally.
Table of Contents
Part I. Policy Approaches to the Financial Management of Large-Scale Disasters by Alberto Monti
Introduction
Chapter 1. Comparative Review
1. Ex ante versus ex post policy approaches: alternatives or complements?
2. Coordination between public and private sectors
3. Types of public-sector roles
4. Financial sector role
5. Temporary versus permanent nature of the scheme
6. Perils covered
7. Losses covered
8. Mandatory versus voluntary nature of the scheme
9. Risk-based pricing versus flat pricing
Chapter 2 Survey of Country Approaches
Selected OECD Countries
Australia
Austria
Belgium
Canada
Czech Republic
Denmark
Finland
France
Germany
Hungary
Iceland
Italy
Luxembourg
Japan
Mexico
Netherlands
New Zealand
Norway
Poland
Portugal
Slovak Republic
Spain
Switzerland
Turkey
United Kingdom
United States of America
The European Union Solidarity Fund.
Selected Non OECD Asian Countries
Chinese Taipei
India
Indonesia
Philippines
Conclusions
Part II. Reducing the Impact of Natural Disasters: The Insurance and Mitigation Challenge by Howard C. Kunreuther and Erwann O. Michel-Kerjan
Introduction
Chapter 1 A New Era of Large-Scale Natural Disasters.
1. Extreme Events: More Devastating, Much More
2. What Is Happening Today? The Question of Attribution
3. What is Likely to Happen Tomorrow?
Chapter 2 The Role Of Cost-Benefit Analysis In Evaluating Mitigation Measures For Natural Disasters
1. Role of Cost-Benefit Analysis
2. Focus on Specific Mitigation Measures
3. Mitigation and Insurance for Natural Disasters in the United States
4. Natural Disaster Insurance in other Countries
Chapter 3 Risk Perception And Choice In Homeowners Adoption Of Mitigation Measures: The Need For Long-Term Contracts
1. Linking Ex Ante and Ex Post Disaster Policies
2. Why Individuals Do Not Undertake Mitigation Measures Voluntarily191
3. Developing Innovative Mitigation Strategies through Public-Private Partnerships
Conclusions
Part III. Coping with Non-Conventional Crises: Strategic Leadership in a Chaotic World by Patrick Lagadec and Xavier Guilhou
Introduction
Chapter 1 The New World Of Risks and Crises
1. Bursting our frames of reference
2. The dislocation of our environments and benchmarks
Chapter 2 Operational Responses: Between Knowledge and Invention
1. Responses to be understood and mastered
2. Responses to be invented
Chapter 3 Strategic Initiatives
Conclusions
Annex A. Large Financial Institutions and Unconventional Crises
Annex B Two Examples of Crises From the Years 1980-2000
Annex C. An Example of an Off-The-Scale Crisis: Katrina, August 29-September 2005
Notes
Bibliography
with TOC BookMarkLinks