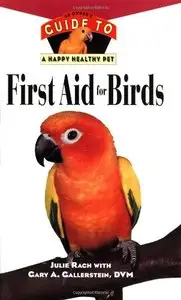 Julie Rach Mancini, Gary A. Gallerstein, "First Aid For Birds: An Owner's Guide to a Happy Healthy Pet"
Publisher: Howell Book House | ISBN 10: 0876055315 | 1998 | PDF | 128 pages | 23.7 MB
At last, a book for pet owners that focuses on administering first aid to birds. You'll not only learn step-by-step information on emergency situations bird owners might encounter, you'll also learn how to quickly save your bird's life by taking action, and how to prevent emergencies by feeding your bird a balanced diet, regularly trimming his wings and nails and bird-proofing your home. First Aid for Birds is written by an expert and includes instructions on monitoring your bird's health by regular veterinary visits and observing your bird daily for signs of illness. Best of all, the book is filled with color photos, info-packed sidebars and fun facts to make caring for your pet bird easy and enjoyable.