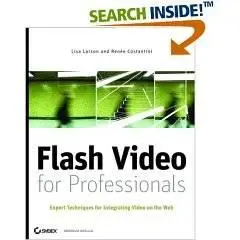 Lisa Larson , Renee Costantini, "Flash Video for Professionals: Expert Techniques for Integrating Video on the Web"
Sybex (July 2, 2007) | ISBN:0470131136 | 362 pages | PDF | 3,2 Mb
Now there's a single definitive source for everything Flash developers need to know to integrate cutting-edge video into a website—seamlessly. Whether your Flash skills focus on design or programming, this guide helps you with every phase from writing the project proposal to deploying finished applications. A step-by-step workflow directs you through setting up a work environment, designing applications, using ActionScript 2 and 3, Flash® Media Server 2, and every stage in between. Packed with tried-and-true solutions and detailed code examples, it's exactly what you need to deliver interactive video to your clients.
Understand your clients' needs and ask the right questions to determine the scope of their projects
Obtain source video and optimize it for Web-based playback
Develop a site or Web application that incorporates video
Create and skin a player with Flash in both ActionScript 2 and ActionScript 3
Explore hosting requirements, server options, and streaming vs. progressive download delivery
Publish your site and enable the client to update it with automated tools
Learn how to create full-featured video players with custom-designed skins
Develop professional interactive video applications that utilize the power of ActionScript 2 and 3