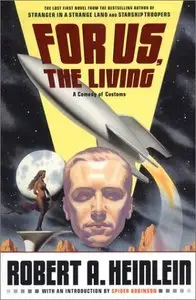 For Us, The Living: A Comedy of Customs
Scribner | December 9, 2003 | ISBN-10: 074325998X | 288 pages | PDF | 2.1 MB
Heinlein's later novels were often accused of sermonizing rather than storytelling. His previously unpublished first novel shows that he started out preaching, too. It's a utopia, however; hence, it belongs to a didactic genre with roots in Plato's dialogues, especially The Republic. A young army flyer blacks out in a car crash in 1939 and starts coming to in 2086. A lovely young woman finds and brings him home to recuperate. When he fully awakens, he discovers just how lovely she is, for clothing is optional in 2086. The taboo on nudity, and also sexual fidelity, blue laws, unemployment, poverty, victimless crimes, and political campaigning as 1939 knows it no longer exist. Much of the text is spent explaining how Depression America became a utopia, and if the history lesson is intriguing, the economic one, based on C. A. Douglas' Social Credit system (Ezra Pound's hobbyhorse in the Cantos), is soporific. Heinlein is clearly no Plato, but the future he depicts is no Cloud-Cuckoo-Land, either. A neat discovery for Heinlein and utopia fans.