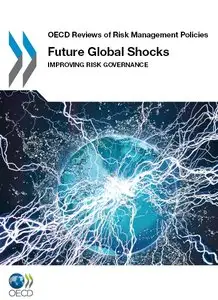 Future Global Shocks: Improving Risk Governance
OECD Reviews of Risk Management Policies
OECD | Aug 2011 | ISBN: 9264095209 9789264095205 9789264114586 | 142 pages | PDF | 6 MB
This report considers how the growing interconnectedness in the global economy could create the conditions and vectors for rapid and widespread disruptions. It looks at examples of hazards and threats that emerge from the financial world, cyberspace, biological systems and even the solar system, to reflect on what strategic capacities are called for to improve assessment, mapping, modelling, response and resilience to such large scale risks.
Recent global shocks, such as the 2008 financial crisis, have driven policy makers and industry strategists to re-examine how to prepare for and respond to events that can begin locally and propagate around the world with devastating effects on society and the economy.
Table of contents
Abbreviations
Chapter 1. Definition and drivers of future global shocks
Introduction
What are future global shocks?
The future is now
Global shocks know no boundaries
Are future global shocks only negative?
Drivers of future global shocks
Bibliography
Chapter 2. Risk assessments for future global shocks
Introduction
Pandemics
Financial crises
Cyber risks
Geomagnetic storms
Lack of knowledge about amplifiers
Accounting for secondary effects
Outlook for future global shocks
Conclusions
Policy options
Bibliography
Chapter 3. Tools to prepare for future global shocks
Introduction
Mapping and modelling of complex systems
Mapping complex systems
Modelling complex systems
Maps and models: Understanding the connection
Maps and models: Where are the gaps?
Conclusions
Policy options
Bibliography
Chapter 4. Emergency management of future global shocks
Introduction
Surveillance, monitoring and early warning systems
Countermeasures, reserves and back-up systems
Incentive structures contributing to systemic risks
Insufficient skills and knowledge to manage global shocks
Conclusions
Policy options
Bibliography
Annex 4.A1. Comparative characteristics of routine emergencies/ disasters/ global shocks
Chapter 5. Strategic approaches for managing future global shocks
Introduction
Scaling-up capacities through improved international co-operation
Building societal resilience to global shocks
Conclusions
Policy options
Bibliography
Annex 5.A1. Compendium of Standards
Annex A. Glossary
Annex B. Members of the Future Global Shocks Project
Steering Group
Contributing experts
Invited experts
OECD experts
with TOC BookMarkLinks