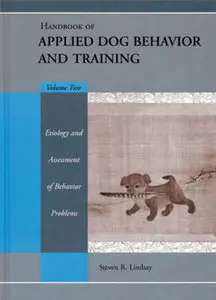 Handbook of Applied Dog Behavior and Training, Vol. 2: Etiology and Assessment of Behavior Problems
Wiley-Blackwell | 2001 | ISBN: 0813828686 | PDF | 328 pages | 1.63 MB
Handbook complete in three volumes. Volume two covers history of applied dog behavior and training; behavioral assessment; fears and phobias; attachment, separation, and related disorders; excessive behavior; aggressive behavior; intraspecific and territorial aggression; social competition; appetite and elimination problems, and cynopraxis.
From the Back Cover
andbook of Applied Dog Behavior and Training, Volume Two: Etiology and Assessment of Behavior Problems is a definitive handbook for dog trainers, behaviorists, breeders, veterinarians, and others who have a serious interest in dog behavior and training. Readers will benefit from the author's twenty-five years of study and experience with dogs as a behavioral consultant and trainer.
The vast majority of dogs exhibit at least one undesirable habit. Most of these problems are responsive to remedial training and brief counseling. However, some behavior problems are the result of a more complex etiology involving adverse emotional influences, cognitive disturbances, or pervasive behavioral disorganization. If not properly identified and treated, such problems may lead to the dog being removed from the home or euthanized.
Volume 2 of Handbook of Applied Dog Behavior and Training explores the collective causes underlying the development of serous adjustment problems in dogs. Coupled with Volume 1: Adaptation and Learning, Volume 2 provides a comprehensive theoretical and practical framework for understanding the development and treatment of behavior problems.
The focus of Volume 2 is to present and evaluate the relevant applied and scientific literature, with the goals of clarifying what is known about the etiology of dog behavior problems and highlighting what yet remains to be learned. In addition, the author introduces several alternative ways for analyzing and understanding the etiology of behavior problems. Topics covered in depth include:
* History of applied dog behavior
* Behavioral etiology and assessment
* Fear, anxiety, and phobias
* Separation-related problems
* Compulsive behavior problems
* Hyperactivity
* Dominance, territorial and fear-related aggression
* Appetitive and elimination problems