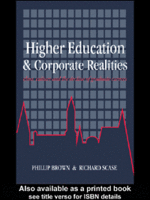 Phillip; Brown, "Higher Education And Corporate Realities"
Publisher: Routledge | 1994-06-01 | ISBN 1857281039 | PDF | 208 pages | 1.0 MB
A new approach to the analysis of cultural reproduction focusing on the impact of economic change. The book demonstrates the reinforcement of cultural stereotypes in recruitment caused by interaction between corporate restructuring and the education system. This book is intended for academics, postgraduates and advanced undergraduates in sociology with an interest in the sociology of work and the sociology of education as well as researchers and students within human resource management and cultural studies.