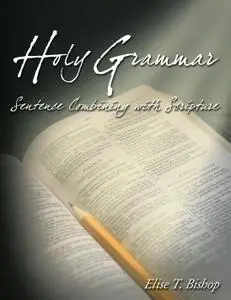 Holy Grammar: Sentence Combining with Scripture by Elise Bishop
English | August 13th, 2019 | ISBN: 1400324661 | 72 pages | EPUB | 1.50 MB
A workbook like no other, Holy Grammar teaches basic grammar skills using examples and exercises only from Scripture. Students apply sentence combining techniques to over 200 Bible verses to improve the complexity, correctness, and variety of sentences in their own writing. Designed for use in a composition class, Holy Grammar was written by a secondary and college composition and grammar instructor with over 35 years of experience in the classroom. In a challenging way that relies more on intrinsic knowledge of language than memorization of rules, the exercises provide students with the practice they need to produce (and correctly punctuate) a variety of sentence types.
The teaching tips included demonstrate flexible methods for teachers who want to incorporate the lessons into their classes. With the Bible itself serving as the answer key, students have the ability to check their own work. A grammar review section examines parts of speech, clauses and phrases, and basic sentence types and patterns. The skills presented in this workbook lay the foundation for more advanced grammar study.
Enjoy
My Blog
. No any convert or low quality!