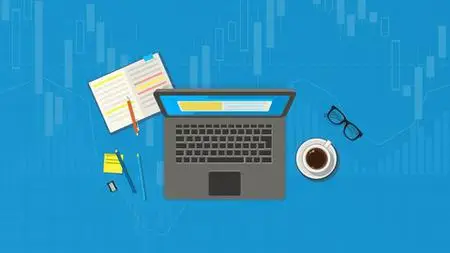 How To Analyze Stocks And Write For Seeking Alpha
Last updated 11/2021
MP4 | Video: h264, 1280x720 | Audio: AAC, 44.1 KHz
Language: English | Size: 1.69 GB | Duration: 3h 6m
My Proven System for Writing About the Stock Market Online
What you'll learn
Create an account and start writing for Seeking Alpha
Successfully write about and analyze stocks
Get your articles published by the website's editors
Make the maximum amount of money on the site in the shortest possible time
Requirements
It is helpful for students to have some sort of business OR writing background to succeed in this course
Description
Recent Testimonials:"This is a great course and I highly recommend it. I love writing, but so many times it just does not pay to write. This course shows you how to make a full-time living writing from almost the time you finish the course. You might need to read up on how stocks work to feel more confident about writing articles, but that is small beans compared to some of some of the other hoops you have to jump through for a lot less money in some other courses you will take. I also bought his book. I highly recommend it as well." - Matthew Payne"Fantastic course. Clear, concise instruction. This seems very doable. I'm going to write my first article this afternoon." - Ken Mayfield"I chose this class because I thought would be a good fit for a Stay-At-Home/Homeschool Mom. Greg provides simple and easy to follow information outlining a great business opportunity. I am an avid fan of the 'Nightly Business Report' and this class has giving me new information on how I can turn that interest into extra income. I recommend this class." - Erica Bellamy JosephIN THIS COURSE I WILL SHOW YOU EXACTLY HOW TO:
Create an account and start writing about stocks for Seeking AlphaSuccessfully write about and analyze stocksGuarantee your articles get accepted by the moderators, get published, and sent out as an alert to thousands of readersMake the maximum amount of money for your articles about stocks on the website
Over the past several months I have developed a system to easily make over $1,000 a month on the Seeking Alpha website buy testing various strategies and seeing what does and doesn't work when writing about the stock market on the site. As you can see in the promo video I give you proof of my earnings and throughout the course I will literally write an article in front of you and submit it to the website.
Not only do I show you how I write the article, but I also show you how to choose a company, analyze the stock, guarantee that your articles get accepted by the site's editors, and many more tips and tricks to guarantee you succeed.
This is not a course that promises something that cannot be done by everyone nor has not been done by the teacher. I record the screen and show you step by step EXACTLY how I write articles about stocks, get them submitted and accepted by the website, and make money.
If you follow what I say in the course, you can be earning up to$100 per hour within days and have your first online income stream paying you while you sleep. I hope you make the decision to join the course and learn how to make over $1,000 a month writing about stocks online.
Overview
Section 1: Introduction
Lecture 1 Introduction to writing for Seeking Alpha
Section 2: How to Analyze Common Stocks
Lecture 2 Learn How to Quickly Research a Stock That Can Be Used in Our Article
Lecture 3 Choosing a Title and Starting the Article
Lecture 4 The Key Elements of Good Stock Analysis
Section 3: How to Write a Profitable Article for Seeking Alpha
Lecture 5 How to Use Evidence and Hyperlinks in the Article
Section 4: How to Make At Least $1000 Every Month With Your Articles
Lecture 6 How to Choose a Price Target and Conclude the Article
Lecture 7 Final Steps to Get the Article Published
Lecture 8 Using Fundamental Stock Analysis in Writing
Lecture 9 More Fundamentals of Stock Analysis
Lecture 10 The Awesome Power of Fundamental Analysis
Lecture 11 More Tips, Tricks, and Tactics to Maximize Profits
Section 5: Conclusion and Bonus Material
Lecture 12 Course Recap, Final Tips, and Bonus Material
Lecture 13 Bonus Lecture
Lecture 14 More Bonus Material: Investing for 2022 and Beyond
Students that are good at writing,Students that enjoy writing,People with a business background,People who already know something about stocks