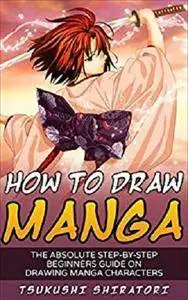 How to Draw Manga: The Absolute Step-By-Step Beginners Guide On Drawing Manga Characters (Mastering Manga Drawing Tutorial) by Tsukushi Shiratori, Viktorina Milano
English | November 24, 2014 | ISBN: N/A | ASIN: B00Q54OEPC | 118 pages | AZW3 | 2.44 MB
Learn How To Draw Manga With This Step-by-Step Drawing Manga Tutorial!
Do you love anime like Death Note, Fullmetal Alchemist, Bleach, Rurouni Kenshin, Soul Eater, Dragon Ball Z and who could forget the famous Naruto, Trigun and One Piece? These are just among the many anime released and are rocking all kind of audiences.
But did you know that some of the anime series we know and loved were adapted from a popular manga usually with the collaboration of the original author? But it would be great not to only read manga, but to also learn manga drawing.
In this book, I will teach you how to draw manga. This activity will make an absolute beginner, an avid fan, anime items collector – a manga master!
Why you are going to love this book? Because, I will teach you not to copy someone else's work, but you will learn how to draw manga characters – using your imagination and creating your very own characters!
In this ultimate manga lessons, you will learn the following drawing manga topics:
What Is Manga?
Terminologies
Different Styles of Manga: Shoujo, Shounen, Josei, Seinen
Things You Need To Consider
The Different Drawing Media
Different Pencil and Strokes
How To Draw The Basics (The head (female and male), eyes, mouth, emotions, hair)
How to Draw Shoujo Manga and Josei Manga
How to Draw Shounen Manga
How to Draw Seinen Manga
Applying The Ink and Last Minute Additions
…and many more!
How to Draw Manga: The Absolute Step-By-Step Beginners Guide On Drawing Manga Characters (Mastering Manga Drawing Tutorial)
is truly an easy-to-follow art book that will show how to draw different sketching manga style in a comprehensive structure that will allow even novices and beginners alike a chance to learn how to draw their own fictional manga characters!
Properly creating your manga character is very essential in the course of mastering manga, and this book is very clear enough to discuss the core topic of understanding the 4 styles of manga. This entire manga drawing tutorial offers a wealth of real information to the actual process the drawing manga itself.
A whole section of the book was devoted specifically to understanding the four different manga styles, and each chapter was dedicated to dissecting each style concentrating on eyes, hair, face, body, arms, legs, shading and the colors to be used.
Special attention is paid on the final chapters of the book, educating the student the proper techniques on how to apply the ink, colors, and adding the final touches which are all important component to surely mastering manga.
The final segment of this manga sketching book delivers the how-to's of correctly applying the ink, last minute additions and detailing of your manga character. Consider working your way through the end of this book, and you will exceptionally have a rigid grasp of the basic principles, and the fun and creative process of drawing your own manga character.
Learning from this how to draw manga book is an exceptional experience. You will master
how to draw the perfect manga faces, head, hands, hair, eyes and clothes! It doesn't matter if you are eyeing for fantasy, action, horror, romance or magical feel. In this book how to draw manga for beginners, you will be taught how to draw manga and apply amazing effects on your drawing!
Whether you are drawing male or female characters, hentai or bishoujo characters, getting this how to draw manga for beginner's book is the best way to getting started.
So if you or someone you know share the same passion and interest on how to draw manga, grab a copy today and share it with them!