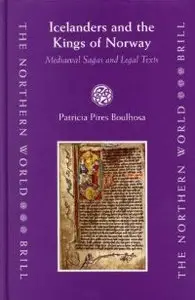 Patricia Pires Boulhosa, "Icelanders and the Kings of Norway: Mediaeval Sagas and Legal Texts (The Northern World, 17) (The Northern World, V. 17)"
Publisher: Brill Academic Pub | ISBN 10: 9004145168 | 2005 | PDF | 256 pages | 10.2 MB
The book uses sagas and legal texts to re-examine the relations between mediaeval Icelanders and the Norwegian kings. It demonstrates that the Icelanders - partly subjects of the king, and partly beyond his power - were ready to negotiate with him for their own benefit, and presents a methodological re-evaluation of authorial attributions of the sagas and their use as historical sources. Key to the book is a revisionary analysis of two laws made between the Icelanders and the kings of Norway: a law probably issued by King Óláfr inn helgi of Norway (1015-1028), and the purported submission agreements with King Hákon Hákonarson (1217-1263), known as Gizurarsáttmáli or Gamli sáttmáli. It also analyses the sagas of the fourteenth-century manuscript Möðruvallabók against the historical context extracted from this legal re-evaluation.