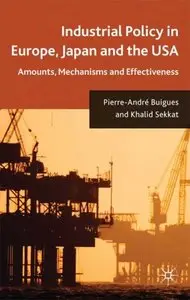 Khalid Sekkat, Pierre Buigues, "Industrial Policy in Europe, Japan and the USA: Amounts, Mechanisms and Effectiveness"
Palgrave Macmillan | 2009 | ISBN: 0230579884 | 224 pages | PDF | 1,2 MB
It is widely admitted that markets are the main driving force of the economy but governments intervention could, in some circumstances, improve on their outcomes. This book provides a structured analysis relating theoretical arguments, implementation approaches and effectiveness of industrial policy.
As the current financial crisis threatens the global economy, heralding global slowdown of the stock markets, pessimistic growth prospects and trembling consumer confidence, this book examines whether public support to business can be beneficial. It draws on recent developments in the theoretical and empirical literature and on the experience of 5 industrialized countries Germany, the UK, France, the USA and Japan.
Over the past half century the mainstream view of industrial policy has varied markedly. From the early 1950s to the early 1970s industrial policy was seen as panacea to growth and development problems. Pursuing industrial policy became almost taboo in the early 1980s. Current views are breaking away from past trends, with the development and testing of new economic theories, attitudes towards industrial policy are now less clear-cut.
In light of the current financial crisis, this volume presents economic theory and critical views on the implementation of public support policies, and offers a structured, up-to-date analysis relating theory, practices and effectiveness of industrial policy. It is an indispensable read for students, academics, policy-makers, as it promises to provide an enhanced understanding of successful and unsuccessful, industrial policies.
Not all books on AvaxHome appear on the homepage.
In order not to miss many of them follow
ebooks section
(see top of each page on AH)
and visit
my blog
too :)
NO MIRRORS according to the rules