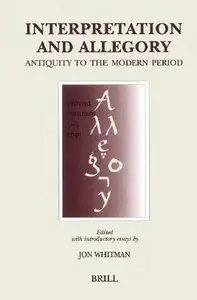 Interpretation and Allegory: Antiquity to the Modern Period
Brill Academic Publishers | November 1, 1999 | ISBN-10: 9004110399 | 513 pages | PDF | 27 MB
An investigation of the theory and practice of interpretation. Concentrating on interpretive allegory, the volume simultaneously opens and organizes new approaches to over 2000 years of critical change. Its topics extend from Pagan, Jewish, Christian, and Islamic perspectives to postmodern inquiries. Its intersecting lines of analysis are drawn by scholars whose specialities range from ancient and modern literature to art history, comparative religion, and the history of philosophy. Framed by introductory essays assessing changes in scholarly research on allegory during the 20th century, the study has four principal parts: antique interpretation of formative texts; medieval philosophic commentary; late Medieval and Renaissance sigh systems; and 18th- to 20th-century theories of allegory.