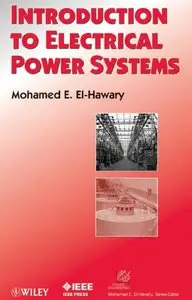 "Introduction to Electrical Power Systems" by Mohamed E. El-Hawary
IEEE Press Series on Power Engineering
Wilеу, IEEE Press | 2008 | ISBN: 0470408634 9780470408636 9780470411360 | 397 pages | PDF | 4 MB
This book provides an ideal, practical introduction to the field-perfect for self-study or short-course work for professionals in related disciplines.
Design and Analysis, with new material designed for the undergraduate student and professionals new to Power Engineering. The growing importance of renewable energy sources, control methods and mechanisms, and system restoration has created a need for a concise, comprehensive text that covers the concepts associated with electric power and energy systems.
Introduction to Electric Power Systems fills that need, providing an up-to-date introduction to this dynamic field.
A discussion of present and future directions of the electrical energy field rounds out the text. With its broad, up-to-date coverage, emphasis on applications, and integrated MATLAB scripts.
CONTENTS
Preface
Chapter 1 - INTRODUCTION
Chapter 2 - BASICS OF ELECTRIC ENERGY SYSTEM THEORY
Chapter 3 - POWER GENERATION AND THE SYNCHRONOUS MACHINE
Chapter 4 - THE TRANSFORMER
Chapter 5 - ELECTRIC POWER TRANSMISSION
Chapter 6 - INDUCTION AND FRACTIONAL HORSEPOWER MOTORS
Chapter 7 - FAULTS AND PROTECTION OF ELECTRIC ENERGY SYSTEMS
Chapter 8 - THE ENERGY CONTROL CENTER
Chapter 9 -THE PRESENT AND FUTURE OF ELECTRIC ENERGY SYSTEMS
REFERENCES
INDEX
with TOC BookMarkLinks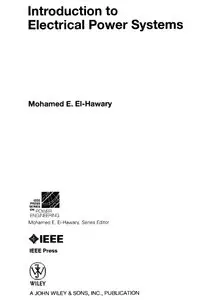 About the Author
Mohamed E. El-Hawary has been Professor and Associate Dean of Engineering at DalTech of Dalhousie University since 1981.