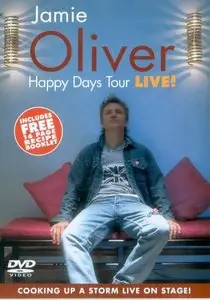 Jamie Oliver - Happy Days Tour Live!
DVD5 | PAL 4:3 (720x576) VBR | MPEG2 ~6364 kbps | English: AC3, 192 kb/s (2 ch) | Duration: 01:40:59 | 3.77 GB
Genre: Cooking
Live Jamie Oliver's engagingly smarmy Cockney patois and his unbridled enthusiasm for great food done well would be enough to make this not-even-thirty-year-old chef a success. But on top of that, he can cook. With a number of best-selling cookbooks and television shows, Oliver (a.k.a. the Naked Chef) now takes his show on the road in a special culinary concert captured live at London's Hammersmith Apollo. It's truly a spectacle to behold, with lots of wit, audience participation, and a no-holds-barred performance by Oliver. DVD extras include on-screen recipe cards, an exclusive interview with Oliver, and his short (he was born in '75, after all) but illustrious biography.
Welcome to the best eLearning video (English, German, French, Spanish language) and many more:
LINK
Do not forget to check my blog! Updated regularly! Add in bookmarks my blog :)
PM me if Links not working!
No mirrors pls!