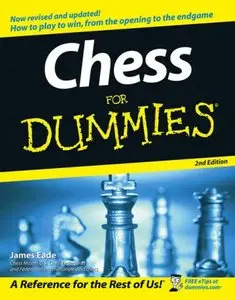 James Eade - Chess for Dummies
For Dummies | ISBN: 978 0764584046 | 02/09/2005 | English | 384 pages | PDF | 12 MB
Proven tactical tips to strengthen your game
Your quick and easy guide to the rules, strategies, and etiquette of chess
Kings, queens, knights - does chess seem like a royal pain to grasp? This friendly guide helps you make the right moves. From using the correct terms to engaging in the art of attack, you'll get step-by-step explanations that demystify the game. You'll also find updated information on tournaments and top players, as well as computer chess games and playing chess online!
Discover how to:
Set up your chessboard
Understand the pieces and their powers
Recognize the game's patterns
Decipher chess notation
Employ tactics to gain an advantage
Find tournaments and clubs
Reviews
A good "first chess book"
This is a great book for beginners. It explains the rules, basic strategy, how to play openings, explains the different stages of play (opening, midgame, endgame), and annotates some famous chess games. You will quickly outgrow this book however, because it does not go in-depth in any one topic. It's a good foundation though. I don't understand how the other reviewers who gave it a one-star rating were so confused by this book. If you get lost in reading "Chess for Dummies", playing chess may not be the best endeavor for you.