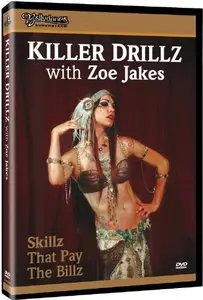 Killer Drillz with Zoe Jakes Bellydance Superstars
DVD9 | NTSC 16:9 | (720x480) | MPEG2 ~6299 kbps | English: AC3, 192 kb/s (2 ch) | 01:33:45 | 4.97 GB
Zoe Jakes is known for her strong technique, drill sergeant-style workshops, and her ability to break down each movement for greater understanding by students of any level. This practice companion was developed with that in mind, and is for the dancer looking to excel at their technique. It is formatted with dancers of all levels in mind, going from basic movement to layering and hitting all levels in between, with a workshop style teaching setting. Students have the option of following along with Zoe's thorough explanation, or may go ahead to the drilling section, where each movement is drilled continuously with no stopping (no need to hit rewind!) So if you are feeling stuck and needing a practice companion to help you reach that next level in your dance, this is for you!
Welcome to the best movies collection (English, German, French language), best software, best eLearning video and many-many more:
LINK
Do not forget to check my blog! Updated regularly!