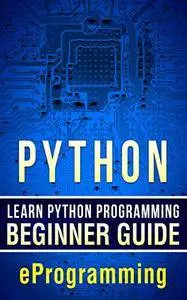 Python: Learn Python Programming - Beginner Guide: Volume 1 (Python for Beginners,HTML,PHP, C,Java,Ruby,SQL) by eProgramming
English | 4 July 2016 | ISBN: 1535092092 | 46 Pages | PDF (conv) | 465.61 KB
Python is the easiest to learn and once you have a good grounding in it, you can move on to another, more complicated language. Python is a beautiful computer language. It is simple, and it is intuitive. Python is used by a sorts of people – data scientists use it for much of their number crunching and analytics; security testers use it for testing out security and IT attacks; it is used to develop high-quality web applications and many of the large applications that you use on the internet are also written in Python, including YouTube, DropBox, and Instagram.
Here Is A Preview Of What You Will Learn…
What is Python ?
Features of Python
The First Program
Key Words
Expressions and statements
Decision Making in Python
Much, much more!