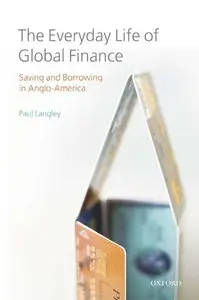 Paul Langley, "The Everyday Life of Global Finance: Saving and Borrowing in Anglo-America"
Oxford University Press, USA | 2008-07-15 | ISBN: 0199236593 | 320 pages | PDF | 1,7 MB
Grounded in literature from the sociology of finance and international political economy, and informed by extensive empirical research, The Everyday Life of Global Finance explores the unprecedented relationships that now bind Anglo-American society with the financial markets. As mutual funds have increased in popularity and pension provision has been transformed, many more individuals and households have come to invest in stocks and shares. As consumer borrowing has risen dramatically and mortgage finance has embraced those deemed sub-prime, so the repayments of credit card holders and mortgagors have provided the basis for the issue and trading of bonds and other market instruments.
The Everyday Life of Global Finance is an ambitious and innovative contribution to our understanding of the contemporary financial world. It shows how financial market networks have come to extend well beyond Wall Street and the City of London, becoming embedded and embodied in routine saving and borrowing in the US and UK. Society's new-found relationships with the markets are also shown, however, to be marked by stark inequalities, manifest contradictions, and political dissent.
Only RS mirrors, please