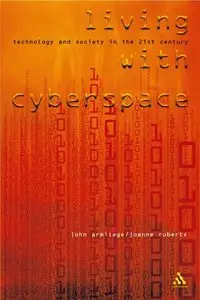 John Armitage, Joanne Roberts, "Living With Cyberspace: Technology & Society in the 21st Century"
Continuum | 2002 | ISBN: 0826460364 | 224 pages | PDF | 1,6 MB
Where do everyday life and cyberspace converge? This book suggests that everyday life in the 21st century is inextricably connected to how cybernetic technologies have come to dominate contemporary discourses in society, culture, politics and policy and economics. With contributions from sociologists, cultural and feminist critics, political theorists, practitioners and economists, it explores and develops a variety of fresh perspectives on the analysis of everyday life in the 21st century and cybernetic technologies. How do cybernetic technologies and society relate to one another today? How does social life in the 21st century of technology organize and orient itself to the seemingly endless supply of information and the demands of cyberspace? The articles in this collection show that it is increasingly difficult to distinguish a critique of everyday life from a critique of cyberspace and the society of the 21st century.
Only

ONE (1)

RS mirror, please