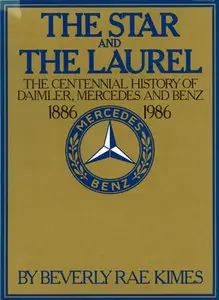 Mercedes-Benz - The Star and the Laurel
The Centennial History of Daimler, Mercedes and Benz (1886 - 1986)
By Beverly Rae Kimes, Produced by Harris Lewine
Publisher: Mercedes-Benz of North America 1986 | 402 pages | ISBN: 0-936573-01-5 | PDF | 183 MB
In 1986 the automobile celebrated its centenary – to mark the occasion American journalist Beverly Rae Kimes and art director Harris Lewine brought out their book The Star and the Laurel. Published by Mercedes-Benz of North America, it was the brainchild of Leo Levine, head of the company's public relations department between 1969 and 1988. Since then it has been regarded as the standard work on the history of Daimler-Benz AG, charting the course of events right up to the centenary in 1986.
The book devotes its first chapters to the early days of automotive history, highlighting the roles of Gottlieb Daimler and Carl Benz. In 1886, the two – working independently of one another – invented the automobile, an achievement that finds an echo in the book's title: Daimler-Motoren-Gesellschaft has been using the star as its trademark since 1909; Benz & Cie. similarly adopted the laurel back in 1909. In 1926 the two companies merged to create Daimler-Benz AG, with their respective brand insignias coming together to create the trademark that to this day epitomises Mercedes-Benz, one of the world's most prominent brands.
In The Star and the Laurel the author not only charts the company's multifaceted history in rich detail, but also brings a style and vocabulary to the writer's task that turns the book – albeit published only in English – into an unmissable read. The superbly crafted copy is complemented by a series of historic photos that revive period atmosphere and contemporary history in a unique way. …