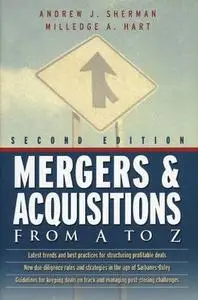 Andrew J. Sherman, Milledge A. Hart "Mergers and Acquisitions from A to Z"
AMACOM | 2006 | ISBN: 081440880X | 288 pages | PDF | 1.3 Mb
A concise strategic and legal guide for both buyers and sellers at large and small companies, Mergers and Acquisitions from A to Z is a practical, hands-on resource for anyone involved in any merger or acquisition. Written in clear, jargon-free language, the book provides extensive, easy-to-understand information on the entire transaction, including an overview of tax and accounting considerations, drafting legal documents, and analyzing projected financial gain. Thoroughly revised to reflect the latest changes in the business environment, the new edition features: * The latest trends and best practices for structuring profitable deals * New due diligence rules and strategies in the age of Sarbanes-Oxley * Guidelines for keeping deals on track and managing post-closing challenges * And much more Written for those already involved in M&A deals or considering a move in that direction, Mergers and Acquisitions from A to Z demystifies the entire process.
–- No mirrors, please –-