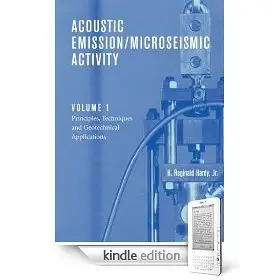 H.R. Hardy Jr., "Acoustic Emission Microseismic Activity Volume 1"
Publisher: Taylor & Francis | 2003-01-01 | ISBN 9058091937 | PDF | 292 pages | 4.3 MB
The volume is based on Penn State graduate courses and research undertaken by the author and his graduate students over a 35-year period. When stressed or deformed, most solids limit low-level seismic signals known as acoustic emission/microseismic (AE/MS) activity. The book includes details on such AE/MS-related topics as basic material behavior, stress wave propagation, transducer design and installation, electronic instrumentation, data acquisition and analysis, and signal processing. Consideration also is given to the practical application of AE/MS techniques to both field and laboratory problems in a wide range of geotechnical areas including those associated with geology, geophysics and mining.