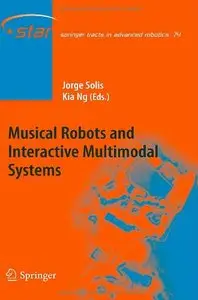 Jorge Solis, Kia Ng, "Musical Robots and Interactive Multimodal Systems (Springer Tracts in Advanced Robotics)"
Publisher: Springer | ISBN 10: 3642222900 | 2011 | PDF | 292 pages | 8.5 MB
Musical robotics is a multi- and trans-disciplinary research area involving a wide range of different domains that contribute to its development, including: computer science, multimodal interfaces and processing, artificial intelligence, electronics, robotics, mechatronics and more. A musical robot requires many different complex systems to work together; integrating musical representation, techniques, expressions, detailed analysis and controls, for both playing and listening. The development of interactive multimodal systems provides advancements which enable enhanced human-machine interaction and novel possibilities for embodied robotic platforms. This volume is focused on this highly exciting interdisciplinary field. This book consists of 14 chapters highlighting different aspects of musical activities and interactions, discussing cutting edge research related to interactive multimodal systems and their integration with robots to further enhance musical understanding, interpretation, performance, education and enjoyment. It is dichotomized into two sections: Section I focuses on understanding elements of musical performance and expression while Section II concentrates on musical robots and automated instruments. Musical Robots and Interactive Multimodal Systems provides an introduction and foundation for researchers, students and practitioners to key achievements and current research trends on interactive multimodal systems and musical robotics.