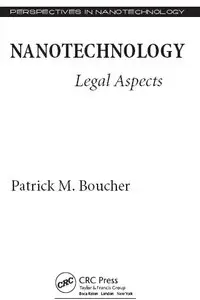 "Nanotechnology: Legal Aspects" by Patrick M. Boucher
Perspectives in Nanotechnology
СRС Press, Таylоr & Frаnсis Group | 2008 | ISBN: 1420053470 1420053500 | 274 pages | djvu | 4 MB
This book provides thorough, yet comprehensible overview of different legal doctrines that are relevant to nanotechnology and explains how they may apply in the development, commercialization, and use of nano-products. Accessible to those without specific training in either nanotechnology or law.
The book is divided into three parts that correspond to the different phases in the lifecycle of nano-products: Protection, Regulation, and Liability.