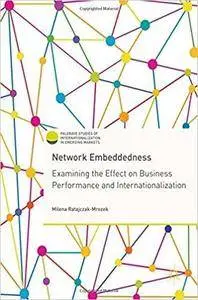 Network Embeddedness: Examining the Effect on Business Performance and Internationalization by Milena Ratajczak-Mrozek
English | 2017 | ISBN: 3319565109 | 402 Pages | PDF | 9.5 MB
This book systematizes the concepts of business relationships and network embeddedness, taking a new approach to internationalization, relevant for the global economy. It reflects the growing importance of network internationalization theory and explores the impact of embeddedness in domestic and foreign relationships on a company's performance. The author questions the validity of the distinction between domestic and foreign activity of companies and demonstrates that in the B2B market, there are actually no exclusively domestic companies which are not directly or indirectly connected with foreign entities. Chapters cover both small to medium sized enterprises and large multinational corporations, presenting a qualitative analysis of over 400 companies including case studies from the IT and furniture industries. This informative study will provide useful insight for academics and students of business and management, international business and organization studies.