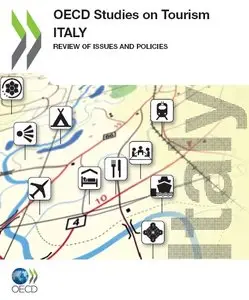 OECD Studies on Tourism: Italy
Review of Issues and Policies
OECD | 22 June 2011| ISBN: 9789264114241 9789264114258 | 154 pages | PDF | 3 MB
This report sets out the main analysis and recommendations of the tourism policy review of Italy. It assesses the current state of tourism performance in Italy, its framework conditions and business environment, the existing set of tourism policies and programmes, especially in the area of statistics, promotion and education and training.
The report presents a series of policy recommendations intended to support policy and programme development in Italy in order to develop and strengthen further the tourism sector and to provide inspiration to policy makers in other countries faced with similar challenges.
The report includes international learning models from the United Kingdom, Canada, Spain and Switzerland.
Table of Contents
Basic statistics of Italy
Executive Summary
Chapter 1. Profile and performance of tourism in Italy
Introduction
Overall assessment
Italian tourism in a changed world
Size and structure of the tourism sector
Tourism performance and competitiveness
Bibliography
Notes
Chapter 2. Tourism policy, organisation and governance in Italy
Introduction
Overall assessment
Constitutional and legal foundation
Organisation and governance of tourism in Italy
The north-south divide
Public-sector tourism expenditure
National tourism policy development
Evaluation of tourism policies and programmes
Annex 2.A1. International learning models: Policy, organisation and governance
Bibliography
Notes
Chapter 3. Tourism intelligence and statistics in Italy
Introduction
Overall assessment
Statistical information on tourism
Moving the system of information towards a tourism intelligence structure
The role of new information technologies
Annex 3.A1. International learning models: Tourism intelligence and statistics
Bibliography
Notes
Chapter 4. Attractiveness and promotion of Italy as a tourism destination
Introduction
Overall assessment
A large diversity of natural and cultural resources
A weak relationship between tourism and heritage management
Italy has a strong international brand
ENIT
The promotional efforts of the regions
Performance evaluation
Annex 4.A1. International learning models: Attractiveness and promotion
Bibliography
Notes
Chapter 5. Education and training for tourism in Italy
Introduction
Overall assessment
The main challenges facing tourism education and training in Italy
Secondary education in tourism
Improving the connection between higher education and the tourism industry
Improving the training offers
Annex 5.A1. International learning models: Education and training
Bibliography
with TOC BookMarkLinks