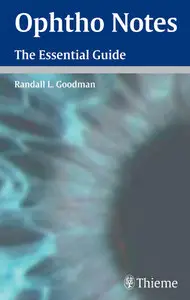 Ophtho Notes: The Essential Guide
Thieme | November 12, 2003 | ISBN-10: 1588901718 | 432 pages | PDF | 20 MB
Practical and easy-to-read, this point-of-care reference provides a succinct, clinical overview of eye anatomy, disease, and treatment. Unlike many ophthalmic handbooks, OPHTHO NOTES classifies disease based upon etiology, rather than presenting signs and symptoms. This classification helps to compartmentalize diseases of the eye, and ensures quick and effortless reference.
The book succinctly organizes the vast field of ophthalmology. Chapters are devoted to particular eye structures, and cover basic anatomy and physiology, metabolic and degenerative diseases, differential diagnoses, examination and testing methods, surgical techniques, complication management, and much more!