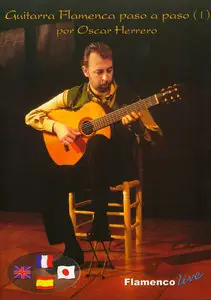 Oscar Herrero - La Guitarra Flamenca Paso a Paso
9хDVDRip | AVI, ~1112 kb/s | 352x288 | Duration: 08:15:37 | Spanish: MP3, 160 kb/s (2 ch) | + PDF Guides | 4.42 GB
Genre: Guitar lessons
Oscar Herrero has always been associated with the guitar. His interest in the Flamenco world placed him on important stages at a very early age, being a solo musician and a composer. He played in prestigious venues all over the world, such as the New York Metropolitan, Ottawa National Gallery, and the Teatro Real in Madrid, where he met some of th emost important names in the contemporary musical scene.
Welcome to the best movies collection (English, German, French, Spanish language), best software, best eLearning video and many-many more:
LINK
Do not forget to check my blog! Updated regularly!
No mirrors pls!