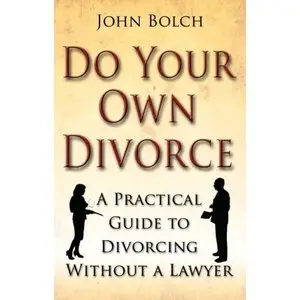 John Bolch, "Do Your Own Divorce: A Practical Guide to Divorcing without a Lawyer"
How To Books Ltd | 2009 | ISBN: 1845283554 | 264 pages | PDF | 1,4 MB
This book will save you money. Even if the divorce is completely straightforward, and there are no arrangements for children and finances to sort out, a solicitor will typically charge between GBP500 and GBP1000 to deal with the divorce for you, not including court fees. If there are arrangements for children or finances to sort out, then the solicitor's fees are likely to be many times that sum. This book is for the increasing number of people who have to go through divorce proceedings without legal assistance, and for those who just want to save legal costs. It includes: *A guide to divorce proceedings, including completing all the required forms. *Sorting out financial/property arrangements, whether by agreement or through the court. *Making arrangements for children. *Details of child support maintenance. *Dealing with domestic violence, costs and mediation. *Plus specimen forms, useful addresses and websites, and a detailed glossary of legal terms. This book is for anyone who is seeking or contemplating a divorce, or anyone whose spouse has issued divorce proceedings against them. Even if you are separating from your spouse and do not wish to divorce at this time, this book will be useful to you as many of the principles with regard to arrangements for children and sorting out finances are the same.
Not all books on AvaxHome appear on the homepage.
In order not to miss many of them follow
ebooks section
(see top of each page on AH)
and visit
my blog
too :)
NO MIRRORS according to the rules