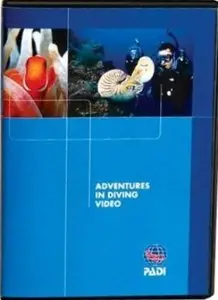 PADI : Adventures in Diving Video
DVD5 | PAL 4:3 | (720x576) | MPEG2 ~6356 kbps | Russian: MP3, 224 kb/s (2 ch) | 01:02:15 | 2.78 GB
The Adventures in Diving program offers both the Adventure Diver and Advanced Open Water Diver certifications. If you complete any three adventure dives, you can earn your PADI Adventure Diver certification. If you complete your Deep Adventure Dive, Underwater Navigation Adventure Dive and three Adventure Dives for a total of five, you can earn your Advanced Open Water Diver certification. This DVD will give you a glimpse of what the world of scuba diving has to offer you once you have received your open water certification.
Welcome to the best movies collection (English, German, French language), best software, best eLearning video and many-many more:
LINK
Do not forget to check my blog! Updated regularly!