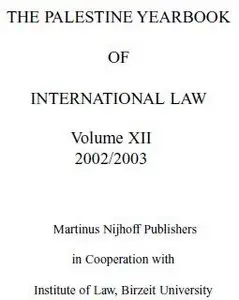 Palestine Yearbook of International Law, 2002/2003
Hotei Publishing | December 2004 | ISBN-10: 9004143602 | 626 pages | PDF | 2 MB
The Twelfth Volume of the Palestine Yearbook of International Law, which is jointly published by Martinus Nijhoff Publishers and the Institute of Law at Birzeit University, is devoted to the theme of international criminal justice, a fast-developing area of international law with immediate relevance to Palestine. The volume deals consequently with the jurisprudence of the Ad Hoc International Criminal Tribunals for the former Yugoslavia and for Rwanda, the developing work of the International Criminal Court, and the system of universal jurisdiction, especially under Belgian Law. Of particular interest and relevance to both universal jurisdiction and the Palestinian issue, is the complaint lodged in 2001 by survivors of the Sabra and Shatila massacre against Ariel Sharon and others under domestic Belgian law, even if, eventually, the passions and pressures that have accompanied the case, have led to its closure and the change of the law altogether. The materials surrounding the case are introduced and assembled in a Special Dossier. Other articles attempt to read the Arab-Israeli wars of 1948 and 1967 and the present Palestinian-Israeli confrontation in light of international humanitarian and criminal law.