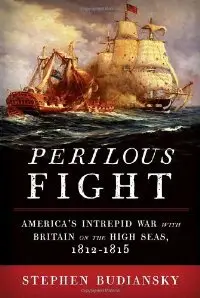 Stephen Budiansky, "Perilous Fight: America's Intrepid War with Britain on the High Seas, 1812-1815"
Publisher: Knopf | ISBN 10: 0307270696 | 2011 | EPUB | 441 pages | 8.1 MB
The deservedly overshadowed War of 1812 was redeemed by heroics at sea, according to this rousing military history. Journalist and military historian Budiansky (The Bloody Shirt) follows the tiny United States Navy, led by a handful of superfrigates, including the U.S.S. Constitution, in its oceanic struggle against the vastly larger, stronger, and haughtier British fleet, whose bullying practice of seizing American merchant ships and sailors provoked the war. Budiansky makes it a classic David and Goliath story, as the plucky Yanks, with better ships, sailing, and gunnery, win a string of resounding victories that wipe the smirks from their adversaries' faces. The author's colorful narrative is full of gory sea battles, chivalrous flourishes, mutinous tars, and charismatic performances by Stephen Decatur, David Porter, and other American naval legends; it becomes grayer and grimmer as the British blockade tightens and the Americans turn from pitched battles to prosaic commerce raiding. Budiansky's well-researched and skillfully written account extracts a gripping true-life naval saga from an otherwise inglorious conflict. 8 pages of color and 8 pages of b&w photos; 11 photos in text; 8 maps.