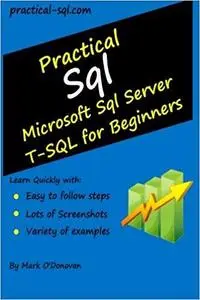 Practical Sql: Microsoft Sql Server T-SQL for Beginners by Mark O'Donovan
English | October 9, 2013 | ISBN: 1495377458 | 210 pages | MOBI | 1.50 Mb
Learning how to develop using sql or even just performing basic queries on a sql database is becoming an essential skill for many roles within the IT industry.
With Practical Sql you will stop being a novice when it comes to using the Microsoft Sql Server database and learn a useful skill.
Practical Sql will provide a concise guide to sql server development with the main aim to prevent boredom. Nobody really likes reading IT books they just want to know how to do X, Y or Z.
With Practical Sql you will learn:
How to Install Microsoft Sql Server.
How to Create Databases, Tables.
How to manage the data in tables.
Functions to changes field values.
Conditional Statements.
Creating checks on the data that goes into the table.
Database Design rules.
Using Triggers to create audit tables.
How to use Transactions and Exceptions.
Using and creating your own templates for faster development.
and more…
The examples within this book were created using Sql Server Express 2012.