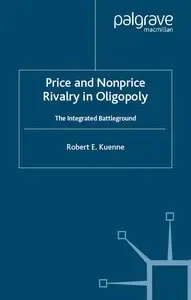 Price and Nonprice Rivalry in Oligopoly
St. Martin's Press | June 1998 | ISBN-10: 0333737326 | 429 pages | PDF | 1.9 MB
The theory of price and quality decision making in industries with a few firms which recognize their mutual interdependence is of increasing interest to economists and policy makers. This book introduces a theory of that decision making, based upon the notion of the industry as a community of agents who are involved in both competitive and co-operative relationships. It develops theories and illustrates methodological approaches to the analysis of price and quality decision making in such instances of a "rivalrous consonance of interests" among firms.