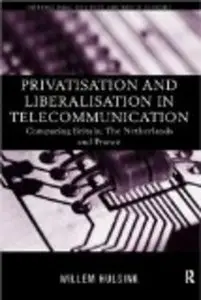 Privatisation and Liberalisation in European Telecommunications
Routledge | January 6, 1999 | ISBN-10: 0415180031 | 368 pages | PDF | 79 MB
This book combines a detailed, sector-specific study of comparative telecommunications regimes set in the context of the EC, with an extensive historical and empirical analysis of individual policy management and change as experienced by three diverse regulatory cultures, namely, Britain, the Netherlands and France. By adopting a comprehensive analytical framework based on far-reaching literature, the author explores a wide-range of theories, addressing key issues at the forefront of contemporary political and academic debate as: Do nation states matter in the globalizing telecommunications industry? Does the common challenge of techno-global telecommunications restructuring elicit different national responses? What is the significance of a single-speed or multi-speed Europe in implementing telecommunications governance regimes?