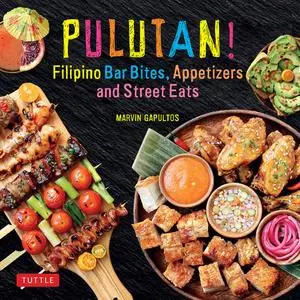 Pulutan! Filipino Bar Bites, Appetizers and Street Eats: (Filipino cookbook with over 60 Easy-to-Make Recipes) by Marvin Gapultos
English | December 1st, 2018 | ISBN: 0804849420 | 120 Pages | EPUB | 26.43 MB
"As a contributor for Serious Eats, Marvin showcased appealing flavors and textures that pair perfectly with beer, using techniques and ingredients well within the home cook's reach. In Pulutan! Filipino Bar Bites, Appetizers and Street Eats, Marvin combines this approach with the vivid Filipino flavors he knows so well. These recipes will become a staple of your parties and celebrations for years to come."
In his new cookbook, Marvin Gapultos delves further into Filipino cuisine by exploring the drinking food and bar snacks of the Philippines known as "Pulutan." Marvin shows you how to eat and drink like a Filipino with a range of easy Pulutan recipes - all of which are perfect accompaniments to an icy cold beer! What's more, as a Certified Cicerone® and craft beer professional, Marvin also provides perfect beer pairings for each dish so you can elevate your Pulutan experience to the highest degree. This cookbook is the essential guide to Filipino food and drinking culture.
This Filipino cookbook includes over 60 exciting Pulutan recipes such as:
• Grilled Coconut and Lemongrass Shrimp
• Raw Oysters with Green Mango Mignonette (Kinilaw)
• Fried Calamari with Crispy Purple Yam Crust
• Corn-Dogged Quail Eggs (Kwek-Kwek)
• Fried Green Mangoes
• Grilled Bacon Skewers with Pineapple Glaze
• Spicy Sizzling Squid (Sisig na Pusit)
• Pork Meatballs with Spicy Coconut Sauce (Bicol Express)
• Beef and Tripe Ginger Soup (Papaitan)
• Grilled Garlic Lamb Chops (Salpicao)
• And much more, including many unique cocktails and desserts!