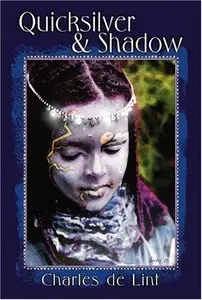 Charles de Lint - Quicksilver and Shadow
2004 | 96 Kbps (VBR) mono | mp3 | Reader: Erin Jones | Duration: 12 hours 10 min | English | 495.67 mb
Quicksilver & Shadow is the second volume (of a projected three) of Charles de Lint's Collected Early Stories. At nearly 150,000 words it's even larger than volume one, A Handful of Coppers, and includes the very obscure 20,000 word novella, "Berlin," and its over 30,000 word counterpart "Death Leaves an Echo." Contents: Contemporary Fantasy "His City" "Scars" Borderland "Stick" "Berlin" "May This Be Your Last Sorrow" Dark Fantasy "Death Leaves An Echo" "L'Esprit de la Belle Mariette" "The Face in the Flames" "The Soft Whisper of Midnight Snow" "We Are Dead Together" "From a 24" Screen" Science Fiction "A Witch in Rhyme" "Songwalking the Hunter's Road" "The Lantern is the Moon" "The Dralan" "The Cost of Shadows" "Raven Sings a Medicine Way, Coyote Steals the Pollen" "A Tattoo on Her Heart" Quicksilver & Shadow will be available only from Subterranean Press .