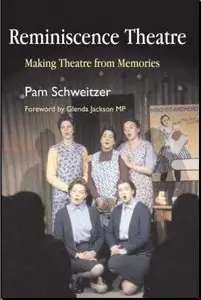 Pam Schweitzer , "Reminiscence Theatre"
Publisher: Jessica Kingsley Publishers | 2006-12-15 | ISBN 184310430X | PDF | 272 pages | 3.1 MB
Reminiscence theatre is about seeing and realising the dramatic potential in real life stories. It takes verbatim memories as the basis for theatre scripts, using the experiences of older people as a source of artistic productions and therapeutic creativity. This book is a comprehensive guide to the nature, practice and therapeutic effects of reminiscence theatre. Drawing on examples from a range of real-life case studies, Pam Schweitzer provides practical advice on the process of taking an oral history, creating from it a written script and developing that into a dramatic production, on whatever scale. The book outlines five components of key significance that the form affords: artistic development through creating original productions; cultural development, by creating reminiscence theatre in multi-cultural contexts, including dual-language productions; educational development through the intergenerational sharing and enactment of memories; psycho-social development for older people by reliving and reshaping past experiences; and health care, by using improvised reminiscence drama therapeutically with people with dementia and their carers. This book will be of great interest to theatre workers, social work professionals and carers of older people, arts therapy practitioners and students in these fields.