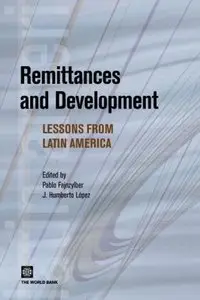 Remittances and Development: Lessons from Latin America
World Bank Publications | February 8, 2008 | ISBN-10: 0821368702 | 408 pages | PDF | 2.2 MB
Whereas workers remittances have become a major source of financing for Latin America and the Caribbean, there is still limited evidence on the development impact of those flows across the main recipient countries in the region. To help fill this gap, Remittances and Development: Lessons from Latin America combines the analysis of cross-country panel data with that of household surveys for as many as 11 countries. Among other issues, this book investigates the profile of Latin American migrants and remittances recipients, and analyzes the impact of those flows on growth, poverty, inequality, schooling, labor supply, financial development, and real exchange rates. One of the main conclusions of the study conducted in Remittances and Development: Lessons from Latin America is that remittances do tend to reduce poverty and inequality and they have several positive growth-enhancing effects e.g. higher savings, human capital investments, entrepreneurship, and bank deposits. However, these positive effects tend be relatively modest compared to the development challenges faced by most countries in the region. Moreover, remittances can also reduce labor supply and lead to real exchange rate over-valuations. Overall, according to the book, it appears that a healthy policy stance is that of combining measures to minimize negative effects on competitiveness, with a focus on complementary growth-enhancing policies and improvements in the regulatory environment aimed at promoting secure and low cost remittances services.